The price of Solana has skyrocketed over the past week, increasing by over 50%. According to Coinbase TradingView, the cryptocurrency rose as high as $46.97 at 2:45 PM EST. This is compared to its low of $31.26 on Saturday.
The chart below illustrates the recent price movement.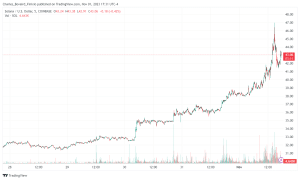 Analysts have attributed the surge in price to multiple factors. One such factor is the VanEck report titled "VanEck's Base, Bear, Bull Case: Solana Valuation by 2030," which outlines a scenario where Solana becomes the first platform to host a mobile application with 100M+ users, monetizing at 20% of ETH's take rate. This report claims that Solana could reach $8B in revenues for SOL token holders by 2030.
Independent crypto analyst Armando Aguilar noted that the VanEck report was a major driver of the price surge. Joseph Nemelka of Aark Digital and Brett Sifling of Gerber Kawasaki Wealth & Investment Management also commented, citing renewed interest in cryptocurrency and the spillover of Bitcoin's recent rally to alt coins like SOL.
Jacob Joseph, Research Analyst for CCData, attributed the surge to the "renewed interest in crypto (partly due to the ETF rumors)." Joseph also expressed that Solana was heavily affected by the collapse of FTX, considering the connection between the exchange and the token. But he noted that these concerns have subsided and Solana is now attracting market participants once again.
For our Free Daily Newsletter and to get the latest crypto news in just 3 minutes, enter your email address below.