The Render Token (RNDR) has experienced a major surge, reaching a key resistance level after the developers achieved a major milestone. This has caused the token to rise by more than 140% from the lowest point in March, making it one of the best-performing cryptocurrencies.
What is happening in the Render Network?
The surge in the RNDR price was most likely caused by the completion of the RNP-002 and RNP-003 votes. These votes are important because they will change the architecture of the network. For example, RNP-002 allows the Render Foundation to implement the BME model on the Solana ecosystem. This blockchain is considered to be a leader in terms of speed and cost-effectiveness, with transactions taking place faster than Ethereum and at lower costs.
The RNP-003 vote, meanwhile, allows the Render Foundation to acquire and allocate resources in order to grow the ecosystem. The votes are now in the process of being updated to Approved and listed on the Roadmap.
The RNP voting process for RNP-002 and RNP-003 has officially come to an end!

Here are the results and what they mean for the future of the Render Network.🧵

— Render Network | RNDR (@RenderToken) April 26, 2023
Render Token Price Prediction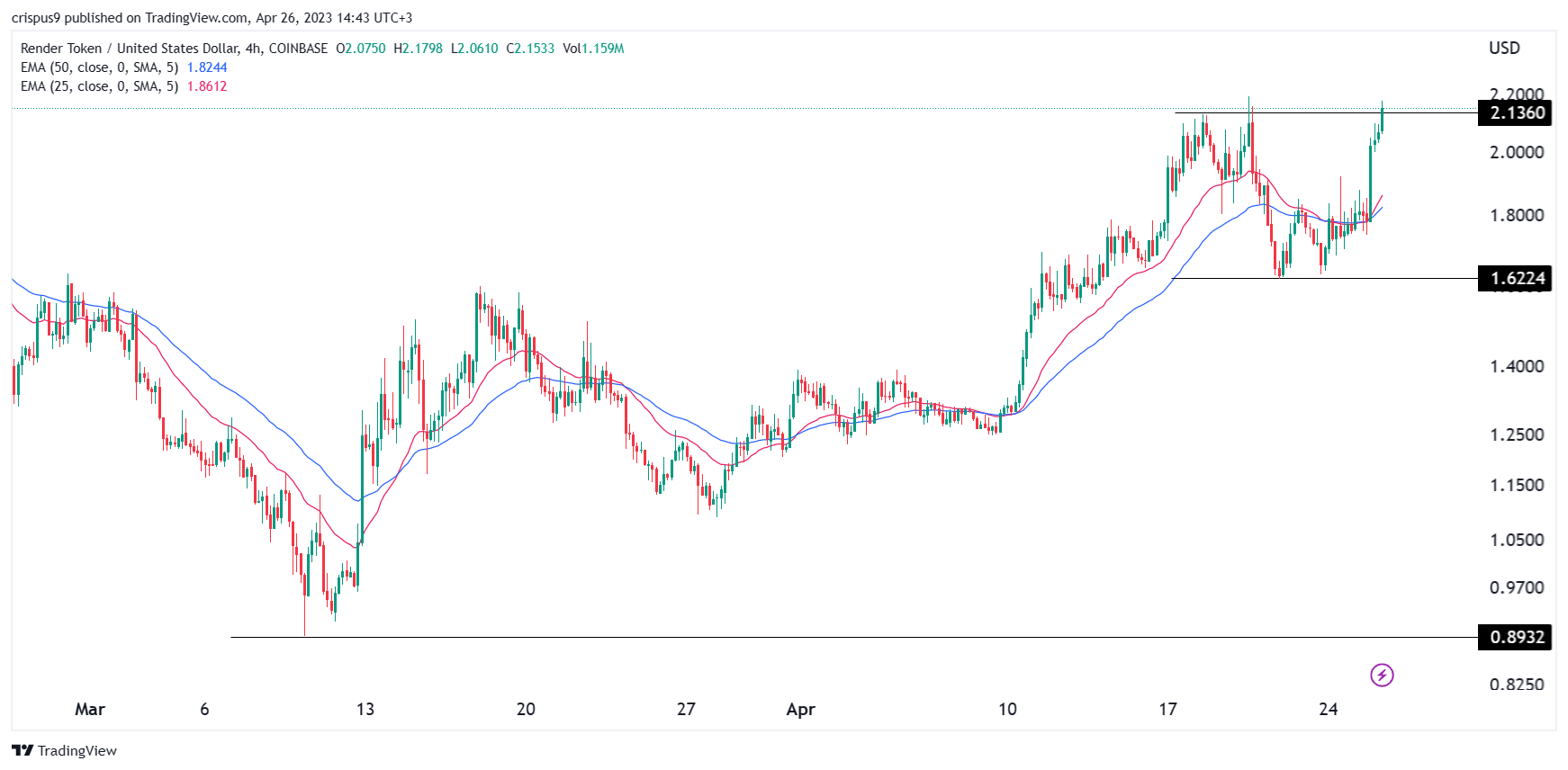 Looking at the daily chart, the RNDR price is in a strong uptrend. From the low of $0.8932 in March, it has risen to a high of $2.20. Additionally, the token has managed to move above all the moving averages. This means that it has formed a double-top pattern, which is usually considered a bearish signal.
Therefore, with the Solana integration news confirmed, there is a possibility that the token may pull back. This is known as buying the rumours and selling the news. Investors tend to buy an asset before a major event and then sell once it happens. If this happens, the next key level to watch will be the double-top neckline at $1.622.
How to Buy Render Network Token